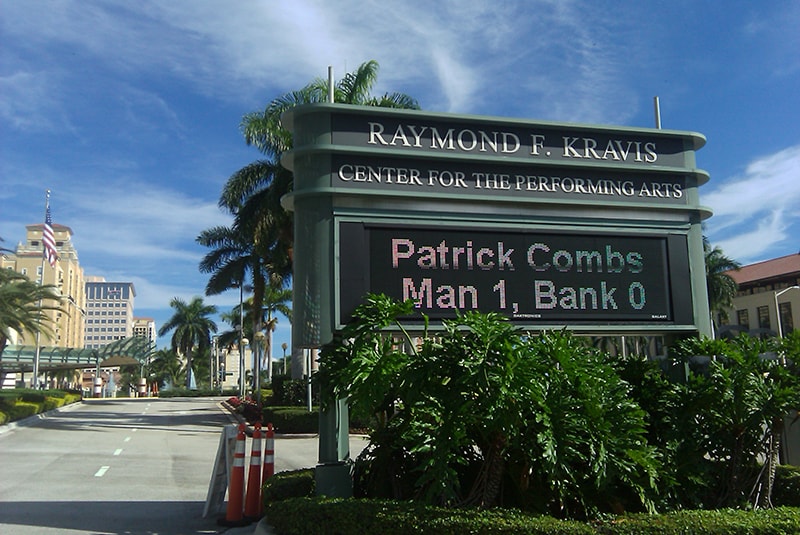 If you're looking for one of the funniest, most entertaining, ninety-minute shows you'll ever see, look no further than Patrick starring in his global, smash-hit, one man show, "Man 1, Bank 0."
In the stage play, Patrick Combs tells the amazing-but-true story of when he deposited a $95,093.35 junk-mail check marked 'non-negotiable' – hoping to spread a little banking cheer to tellers – and how it erupted into a staggering and funny David vs Goliath-like adventure that was well documented by the world news.
Off-Broadway for a month… Great runs at Just for Laughs in Montreal and HBO's Comedy Festival in Aspen… "Critic's Choice" and an entirely sold out run at the Piccolo Fringe Spoleto Festival in Charleston…
Sold out shows at the New Zealand International Comedy Festival, Edmonton Fringe Festival and the Winnipeg Fringe Festival…. Memorable nights on more than 100 of America's mainstages including the Blumenthal in North Carolina. Two mainstage tours of Ireland and a five night stand at the illustrious Olympia Theatre in Dublin. A great run at the 2012 Edinburgh Festival. A run at the Soho Grand in London's West End. What a run for the show it's been!
"This guy's got Star Power," says Hollywood's Variety Magazine.
"One of the FUNNIEST, most FASCINATING and FASTEST moving solo plays to hit New York in many a season. Ninety minutes of NONSTOP LAUGHTER, it's also an EDGE OF YOUR SEAT ADVENTURE loaded with UNBELIEVABLE real-life surprises," said BroadwayWorld.
"Combs has his STORYTELLING DOWN TO AN ART," wrote TimeOut NY.
HILARIOUS and AMAZING. This is – by far the BEST PERFORMANCE I saw. I can't recommend it enough," raves the Orlando City Beat. "If there were a PEOPLE'S CHOICE award, judging by it's SELLOUTS, Man 1, Bank 0, would likely win," said the Winnipeg Free Press. "JAW-DROPPINGLY FUNNY…literally had us SCREAMING WITH LAUGHTER. Patrick is a BRILLIANT STORYTELLER," said Janet Munsil, director of UNO Festival. "An INVIGORATING ROLLER COASTER RIDE presented by a bona fide, ballsy jester. Combs is the underdog– he is us," said the Victoria Times Colonist. "In this TRIUMPHANTLY TRUE story, Patrick Combs poses the question: is found money your money?" noted the San Francisco Guardian.
Patrick has delivered inspiring and impactful
keynotes to more than 1 million people.

TOM PETERS
best-selling business management author
"Patrick is exceptionally successful. Love the chutzpah!"

DEBBIE BEASLEY
Valdosta University
"Outstanding outlook on life… An amazing message to share. He is the real deal."

FRANK SCHIFFMAN
Axiall Corporation
"Patrick's ability to engage his audience sent waves of energy through the room. Heart is what makes Patrick's message work for all."
MIKE MALLOTT
Director, Hilton
"Fantastic presentation… One of the most thought provoking talks I've ever participated in."

ALICE WALKER
author The Color Purple
"Beautiful person. Thank you for helping the universe."

JAMIE MADDEN
CEO of Work First Casualty
"Engaging, inspiring… perfect. I give Patrick my highest recommendation and truly hope that we can work together again in the future."