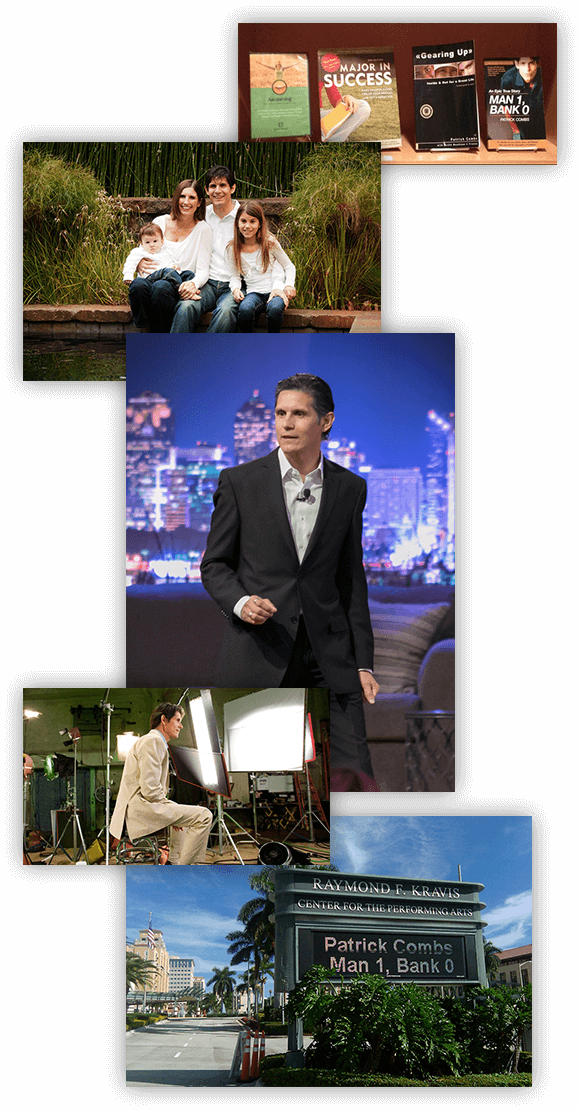 Patrick Combs is a Hall of Fame inspirational speaker, a Best Selling author, and a highly acclaimed comedic entertainer. He has been the invited guest speaker of more than 1,500 organizations and he's been the star comedic entertainer on more than 400 stages around the world.
Patrick brings a unique and extraordinary talent to every stage he steps onto. He is a masterful storyteller, a command performer, and an extremely uplifting personality.
He has accomplished a rare level success in the speaking industry, the writing world, and the entertainment business.
In speaking he has personally addressed and inspired more than 1 million people live and has spoken in every U.S. state and more than 10 countries. His 4 books have sold more than 150,000 copies and his posted stories & blogs have been read online by millions.
The comedic one-man show Patrick wrote, directed and starred in, MAN 1, BANK 0, has wowed audiences and critics on more than 400 stages around the globe, from New York to London. For it, HBO named Patrick the funniest new performer in America.
Along the way, Patrick's been a cover story in the New York Times, The London Financial Times, The Wall Street Journal, and The San Francisco Chronicle and a more than 100 newspapers.
He's appeared on ABC Nightly News, NBC Nightly News, Good Morning America, The Phil Donahue Show, CNN, NPR, The Tonight Show, and The View for an interview with Barbara Walters.
And yes, he once actually delivered a stranger's baby on a sidewalk in San Francisco, while walking to work. And he took a stand for customer service and stood up to a large bank, in a battle regarding a $95,000 junk-mail check. Both stories were headline news.
Most recently, Patrick's been volunteering in a maximum security prison to help inmates prepare for giving TEDx talks from the prison, and to help them rewrite the stories of lives.
Patrick has delivered inspiring and impactful
keynotes to more than 1 million people.

TOM PETERS
best-selling business management author
"Patrick is exceptionally successful. Love the chutzpah!"

DEBBIE BEASLEY
Valdosta University
"Outstanding outlook on life… An amazing message to share. He is the real deal."

FRANK SCHIFFMAN
Axiall Corporation
"Patrick's ability to engage his audience sent waves of energy through the room. Heart is what makes Patrick's message work for all."
MIKE MALLOTT
Director, Hilton
"Fantastic presentation… One of the most thought provoking talks I've ever participated in."

ALICE WALKER
author The Color Purple
"Beautiful person. Thank you for helping the universe."

JAMIE MADDEN
CEO of Work First Casualty
"Engaging, inspiring… perfect. I give Patrick my highest recommendation and truly hope that we can work together again in the future."