Speaking Mastery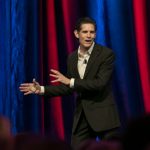 A little share about something I do "behind the scenes." I speech coach people. I just got off a Skype session with one of my clients who owns the largest beard products company in the U.S.
I started about 3 years ago and have had a steady flow of amazing clients (CEO's, bestselling authors, speakers, even the President of a major University). 40 or so clients so far.
Some want help making their stories stronger. Some want helping making their entire talk stronger. All are daring to share their stories with the world.
Anyhow, it's deeply rewarding to coach them. It's actually what eventually led me into volunteering at a maximum security Prison coaching prisoners to tell their stories as well. (For a TEDx event from prison coming up this May).
I love, love, love helping amazing people who are doing amazing things tell their story amazing. I get to help them amplify their message into the world.
I never saw this whole speech/story coaching thing on my horizon, but I truly love it. It's a gift in my life.
For instance, I'm coaching a young woman who runs an outstanding organization that brings art programs to homeless youth! And her story is amazing. She was homeless and sex trafficked as a teen. But she earned her way to college while homeless and started the non-profit. But she didn't know how to tell her story well. But now she does and it's glorious because now people can see clearly and emotionally how amazing she is!
I love it when people tell their stories. I fall in love with my client's stories. And I think everyone should be able to tell their story in a way that helps others fall in love with their story (and them) as well.
Don't even get me started on the prisoner's stories! They are blowing my mind and heart wide open and I feel the luckiest man alive to be able to help them get their stories out and well told!
Tell your story. You've got a great one. You've got a great many. But start with one. Risk being seen for who you are. Embrace your story. Fall in love with your story. Share your story. Your story is not you, but it helps people know you, and like you, and see you.
The question is, What will the world miss if you don't tell your story?
(The photo is me telling my story)
Tomorrow, I'm speaking for a Hilton brand of hotels. This is their big meeting that happens only once every 2 years, so 1500 in attendance. Last time they had Malcolm Gladwell so they go big on their speaker choice and expect the best.
I've been speaking professionally for world class organizations twenty one years now. I'm being well for this 60 minute talk. Here's a little on how I prep for my keynote:
1. Get the client on the phone and interview them. Learn EVERYTHING they'll tell me about their internal initiatives, their business, their challenges and their event objectives. Everything I can about their attendees. You've got to know your client!
2. Get permission to call some of their attendees in advance and interview them. I call about 4. You've got to know your audience!
3. Choose a single talking theme that is a great fit for the client and the audience, that falls under my expertise and passion. You have to have a singular theme you want to drive home!
4. Start noodling on the topic a month in advance. This is a slow cooking creative process. You have to give your subconcious mind plenty of time to get creative!
5. Gather my best personal stories for this particular talk. Personal stories trump platitudes and book-knowledge. You have to have great personal stories for your theme!
6. Decide my 3 major action suggestions. So what strategies am I going to direct them towards? You have to offer value not just inspiration. You have to tell them what they can do better starting today or when they get back to their workplace.
7. Decide how I'm going to illuminate the problem. You have to get them thinking and feeling the problem early on in your talk, or your audience won't care about your solution, no matter how brilliant.
8. Decide how I'm going to open in a way that quickly creates likability, openness, attention and trust. Your open is everything. You've got 60 seconds at most to get your audience to trust you, or you'll be fighting an uphill battle from there on out.
9. Decide how I'm going to close so that I leave the audience on a high note with a noble challenge. It's all for naught, the whole talk, if you blow the close.
10. Decide how I'm going to make the talk fun and interactive. Where am I going to insert activities, interactions, props or humor. This is not icing on the cake, this is mastery that ensures rapt attention throughout.
Hopes this helps you rock your next talk!
Sincerely,
Patrick
Hit me up if you have an important talk coming up or if you are seeking to become a much better speaker. I speech coach by application.